The world of trains according to David Graham
February 1st, 2003
This day was my first time ever railfanning with a camera. I had gone to Guelph Junction with two new friends to work on cleaning up the Guelph Historical Railway Association's baggage car. We got kind of caught up watching trains and didn't get to the baggage car until everyone else had already finished, and we ended up going to Milton as well.
Milton, Ontario
(map) This is where the CN Halton and the CP Galt subs cross eachother, though there is no junction.




















April 13th, 2003
After stopping at hobby shop Hemlock Junction in Milton, we headed South along the Halton sub and found the rural community of Zimmerman, an excellent location for pictures. After waiting a while with no trains, we headed back and immediately heard a train coming up on the scanner. We stopped in Boyne to watch it. Later on, we went to Guelph Junction for a routine railfanning trip.












May 2nd, 2003
My girlfriend and I were heading to Hemlock Junction, as it was having a retirement (closing) sale, and a quilt store for her. On the way, the expressway passed us on the CP Galt sub and on the way back, we caught a couple of trains climbing the hill up toward Guelph Junction.






























































June 14th, 2003
Canadian Pacific ran a steam train excursion from Toronto Union Station to Guelph Junction and back using CP 2816 and a GO consist. I was one of some 1500 passengers on the excursion, in the leading car, and I made some effort to railfanfan -- take pictures of other railfans.


































































July 27th, 2003
Three of us headed out to the Halton sub just south of Milton on the CN Halton sub to see what we could see. We sure saw. The day started with a train with dragging equipment, and, in exchange for fetching coffee, we got a tour of an SD75i cab, and didn't get worse for the next 6 hours.









video


Blocked by a train with dragging equipment two miles away in Boyne, this 6 car, 3 engine train backed down some distance and would later reemerge attached to another train.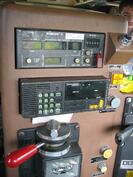 video


Ever wonder how those hy-rails actually got on the tracks? Well, in a lucky turn of events, we got to watch one and I recorded most of the event in this video. Unfortunately, my flash card filled just as the foreman was wrapping it up.






















































October 19th, 2003
Chris, Steve, and I went on a general railfanning tour for a couple of hours in the afternoon.









December 7th, 2003
Chris suggested we railfan. So we did, though both CP and CN proved quiet.











January 17th, 2004
Steve, Chris, Paul, and I headed to Guelph Junction, Milton, Oakville, Burlington West, back to Guelph Junction, and then home in a great circle route of train tracks and hobby shops. The second stop at Guelph Junction yielded an SD90/43MAC doubling the escarpment grade.





January 18th, 2004
We were just going to go catch 153 at Puslinch and come home...











































October 28th, 2004
CN RTC said there would be a parade on the Halton sub from about 1pm to about 5pm because of border crossing issues in Buffalo and Sarnia.































October 30th, 2004
After a morning of intense rain and lousy weather, the sun came out and we went trackside. And boy was it worth it! EMD SD70ACe demonstrator unit GM 70 and two brand new CEFX AC4400s punctuated a short, productive trip.

























November 26th, 2004
Guelph Junction turn lifted OSRX 505 at the Junction and took it on the start of a long journey to Montreal for a new generator. In the evening, London Pickup delivered OSRX 182, OSR's newest RS-18u. It was formerly QGRY and before that a CP engine. The day was punctuated by a 3-hour lull on both CN and CP followed by the loss of one of my proprietary Canon 2B-NL camera batteries. If you happen to run across it, please let me know.






















November 27th, 2004
I set out on a search for the battery I lost on the 26th. On the way to Scotch Block, where I thought it might be, we heard the detector at 25.0 Galt sub with 524 axles, so we went to the Halton/Galt overpass in Milton, and then up to mile 30 Scotch Block where we saw 5 trains including 391 with a series of dimensional and unusual loads on it. On the way back to Guelph we heard OSR working and found them with all three odd-ball paint schemes working: ex-BCR 646, ex-CP 506, and ex-QGRY/exx-CP 182. 182 arrived the day before at the Junction on London pickup but was not on when we found it in Guelph.
My missing camera battery was sitting on the ground at Scotch Block and even seems to work, still. Phew.


































January 27th, 2005
Guelph Junction-Scotch Block-Boyne-Scotch Block-Guelph Junction, 5 BNSF units, tons of trains, perfect lighting. Couldn't ask for more.















March 8th, 2005
CN 148, 391, 422, 392, CP 424, and 127 kept my trains-per-hour ratio up on the first nice day in ages.

























July 3rd, 2005
I got wind of a D8 dimensional load coming up the Halton sub. Being unsure what it was, I went to check it out. I caught up with the 2 GP9s and 2 metal stampers at Milbase switch behind Harvey's and shot it starting down the hill. It stopped for a few minutes and I used the opportunity to head over to the industrial track further down the road where I guessed it was going. When I got there, I greeted a CN employee whose reaction was to order me to stand ridiculously far away and write down my license plate numbers when I disregarded his unjustified instructions. (See in the pictures how far back I was already, on public property!) After this move, I went back up to Scotch Block to catch #383 and #394 which were meeting at Mansewood.














































September 7th, 2005
We headed from my parents' place in Quebec to Laura's parents' place in Brattleboro, Vermont via the scenic route. While Laura had a meeting in Montreal, I spent an hour on the pedestrian bridge in Beaconsfield where I caught 6 trains from 4 companies (CP, CN, AMT, Via), with one foreign unit for good measure. We went to eat on the border between the burroughs of St-Henri and Verdun in Montreal and caught a CN TankTrain unit train heading through town on our way to find food. After that, Laura and I headed to Farnham in the townships to see what Montreal, Maine, and Atlantic had to offer. We found a pair of MMA-lettered GEs switching the yard there but not too much else. From there we went across the border to St. Albans where we caught NECR train 324 leaving town. We heard it get a clearance to Milton to meet a northbound. We did beat it to Milton, but then didn't find the tracks. By the time we found the tracks, we watched the train go by from five or six cars back at the grade crossing line up and didn't try to photograph it. We then found the train it was meeting, which turned out to be a unit train of 6-bay hoppers, but we found no roads to the head end of the train.
Milton, Vermont
(map) Milton is a small town between St. Albans and Burlington, Vermont and hosts an NECR passing siding.





October 5th, 2005
On the 4th, Reading 2100 was moved to the interchange track in St. Thomas. On the 5th, we received word that it was no longer in St. Thomas late in the afternoon, that it had arrived at Woodstock on CP at 5 in the morning. Frustrated at having missed it without hearing anything, I decided that I should at least try going to the Galt sub. While I had little chance of seeing this large steamer at the tracks, I certainly had less if I stayed at home. As it turned out, we only had to wait about 10 minutes, and CP #242 passed -- with Reading 2100! I couldn't believe my eyes, and, instead of waiting for the other two trains that were coming, we decided to head toward Guelph Junction and catch the next eastbound there, deciding whether it would be worth a chase along the way. Shortly after we left, the RTC told #242 that it had to lift 2 units at Hornby, and that was all the encouragement we needed. We caught the train at 9th line as it left the Expressway terminal in fading sunlight.
Milton, Ontario
(map) This is where the CN Halton and the CP Galt subs cross eachother, though there is no junction.
video


CP #242 leaves the Hornby Expressway yard with 4 units and Reading 2100 on heavy duty flats.
























October 26th, 2005
I went to the Junction to see what was kicking around. There wasn't much. Three palindromes and an intermodal - CP #424, #525, #141, and #152 - went through.
video


CP #141 and #152 compete to get to the crossing first by the wood bridge on Campbellville hill. #152 won, #141 went by on the far track out of sight, and my camera decided it didn't really want to take this video after the engines of #152 passed...














December 10th, 2005
Laura and I got up rather early to go see the morning 'rush' on the CP Mactier sub outside Vaughan Intermodal Terminal, encouraged along by a mailing list message suggesting CP #106 would have an ES44AC GEVO leading. We also knew CP #230 had CP 5863, the last large multimark I needed from CP's active fleet. As we were getting ready to go, we heard CP #230 get its clearance to Hamilton and so we went to Guelph Junction to see it before it left. We saw it there but it was still too dark to shoot it, so we went to Hamilton West and waited for it there, where we saw NS #327 and CN #392. We then worked our way toward Vaughan, catching CN #399 and #385 around Milton. We finally got to VIT but never did see CP #106 -- it was still not in the area by the time we left. We did, however, see CP #103 and #105 both with SD90s and the former with a different ES44AC GEVO leading than we headed out expecting. To finish it off, we shot OBRY doing excursions at Inglewood on the way home.
video


CN #399 passes with a BNSF green unit in third.
































June 14th, 2006
We went to the wood bridge just east of the Junction for CP #424 and CP #141, then to mile 30 for CN #275 and #149. We ran out of time waiting and did not see #149.
video


CP #424 starts down Campbellville Hill with a good mix of power.















video


CP #141 heads for the Junction.




November 23rd, 2006
The Royal Canadian Pacific, CPR's business train, came to the Galt sub. In spite of nearly blinding fog, an army of railfans went to Guelph Junction for it. My whole day can be summarised as: Guelph Junction: CP #142, RCP, Milton/Trafalgar Road: RCP, CP #243, Scotch Block/mp30: CN #385, #148, #394, #271, Guelph Junction, Moffat, Corwhin, Arkell: OSR northbound chase, Guelph: OSR/GEXR #432, Cambridge/Galt: CP #159, #741, #141, with CP London Pickup working in the background, and CP #257, one unit light power, hiding just out of sight. Not a bad day!
video

The Royal Canadian Pacific crosses Trafalgar Road.














video


CP #243 heads toward Guelph Junction.






February 19th, 2007
I went to the crossing at 48.04 Galt sub for CP #147, the field just east of highway 6 near east switch Puslinch for CP #257, mile 30 Halton sub for a light power CN #391, Tremaine Road mile 34 of the Galt sub for CP #424 which had a pleasant surprise near the end of the train, back to mile 30 for CN #384, CN #148 - the second of three today - and CN #422, and back to Guelph for GEXR #431 light power. CN #148, normally intermodal, was mostly manifest, CN #422 had CN #550's power helping it as it was too heavy and stalled at Tansley. It took three crews to cross the Halton sub. I missed CN #301, a north end train detouring over the Dundas. The strike has really got CN in a crunch.
video

CP #424 crosses Tremaine Road with a GEVO, SOO unit, SD40-2F, SD40-2, and most of the way back, MMA 1.














April 19th, 2007
CP #138 had CP-CP-CSX-BNSF-BNSF-BNSF -- in perfect lighting. I didn't hear it on time though, and tore off after it beating it, for some definitions of beating it, to Trafalgar Rd in Milton, where #147 was crossing the crossing and met #138 just to the east of the crossing. I waited around a couple of minutes for #142 and came home.



















May 5th, 2007
We went to mile 30 for CN #396 with CN-UP(SP)-UP-IC(CN) and CN #399 with CN-NS, waited around for CN #148 with sequentially numbered units and CN #393, then went to Campbellville hill for what I believe was CP #424, and Galt for CP #198 - which we missed, CP #243, and CP #257.
video


CP #424 comes off the OCS and starts down Campbellville hill.















May 6th, 2007
CP #242 had 2 rebuilt Cartier units. I got them at Puslinch and again at Trafalgar, and returned home before 09:00. Later, I went down to Killean for CP #152, and in the afternoon I went down to mile 30 for CN #338, #148, #392, #393, and #398. On my way home I heard about a CN #396 with UP-UP-NS-BNSF power coming but it was too late for me to catch it or the CN #435 with a BC Rail unit trailing that took the Oakville sub.
video


CP #242 crosses Trafalgar Rd with a pair of Cartier units rebuilt from a wreck last year.




















May 28th, 2007
I went to Jones Baseline for VIA #84 with the unit nicknamed 'the turd', down to Guelph Junction mileboard for CP #426 with 5911 big bulti, across to Milton for CN #148, off to Ayr for CP #159, #243, #424, London Pickup, and Paris for CN #331, #393, #76, #396, #382, #75.
video


CN #148 passes a dead CN #547 at Milbase.














May 4th, 2008
We went to mile 30 to see what we could see. CN #338 came up with an LMS, and CN #399 went down with a UP ES44AC, but mostly mile 30 was full of railfans, with 8 cars worth by the time I left. As we were leaving, CN #394 called the signal at Tansley and we got it at Derry Rd by the detector. Derry Rd was still surrounded by fields the last time I was there, but there is a rather substantial development going in there now.
video


CN #394 arrives at the Derry Rd. crossing by the 36.6 detector at the same time we do.














October 18th, 2008
For my first trainspotting excursion since the federal election was called, we took a few hours at mile 30. We caught CN #435 there, a 39x eastbound, X392 at Mansewood, and #547 working the Glass spur.
video


CN L547 comes off the Halton at Milbase and switches in Milton.